Do you sometimes think of the good old days? When life was simpler? The pandemic and the other stuff going on in life makes me think of the good old days when things were much easier. Shows were, well, just a basic torn down show with a message to pass.

The nostalgia of the good old days become even stronger as the world and the internet becomes noisier. This week I bumped into A Goofy Movie! And boy, this show is still on and even better than now than two and half decades ago.

A Goofy Movie has been running for over 25 years with improvements in quality, plot and many other aspects of the show that have made it to be among the most popular cartoon shows in the world. Watching A Goofy Movie 25+ years letter brings all the good memories of those days. It is like the fun in these kinds of cartoon shows doesn't even fade with time. And this is what makes it better. Do you remember A Goofy Movie's theme song?

This show had something that I cannot explain that really fascinated people back then. And even now, it still remains one of the shows that are still relevant to the current generation. This is actually one of the most amazing films I have ever watched. But most importantly, re-watched it recently.

Why A Goofy Movie Is Still Popular Today

A Goofy Movie is one of the shows that made a recent comeback and has still won the hearts of the new generation of kids. This show was designed to entertain both the kids and adults alike. This film is built in a way to be a nostalgic time bomb. This isn't just your everyday nostalgia that we see in other shows. It is like super nostalgia.


But beyond that, this is might be one of, if not the best Disney films in their catalogue. And I mean that I really mean that! This movie is disturbingly good. Now if you know my tastes of cartoons, you may be wondering why I haven't reviewed many musical films before! Yes, you are right.

Have you ever thought about how conspicuous it is that this film in particular is in fact a musical? Like I said in my other reviews, the Disney renaissance came about when genius Howard Ashman brought musical theatre to the animation feature film. And after his death in 1991, the business major in Disney did everything they could to capitalize on that success. Form TV shows based on those properties to VHS sequels which are just so bad!

It is not just that this film is a musical, you might even go so far as to call it the era of Disney musicals. The prototypical Disney musical. But somehow, the Goofy movie does well compared to the other Disney musical shows. This puts it on top of the list and makes it stand out from its peers.

Around the mid-90s, many production houses tried their hands on musical shows. But some were just a bummer. They never came close to A Goofy Movie in all aspects. Whether it is plot, character, and idealization. This show was just way ahead in all aspects. I guess that is the main reason why I was just fond of this show. We loved watching it back then, we could binge on it over the weekend non-stop.

Getting to Understand A Goofy Movie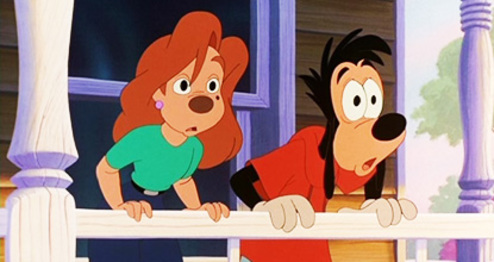 Part one of the show, "Establishing numbers" was one quite amazing episode in the show. After an exceptionally vivid nightmare about Max becoming his father, we get after today. And immediately you are confronted with a level of proficiency that you didn't expect from the movie. Every good musical and I guess really every musical begin exactly the same way with a number that establishes the world. After Disney has set up the world of this set, it's the last day of school before summer vacation and max is about to pull a stunt. And that is all the viewers got to know on this plot. But there is something else about this film because it isn't just the establishing number for the show.

During the production of the Little Mermaid, Howard Ashton and Jeffrey Katzenberg would bump heads and disagree a lot on different aspects of the film. At one point Katz insisted on removing a part of the world. Ariel's I want the song. This song is really supercritical in very musical because it tells you what the main character wants and it helps the audience connect to their motivations. It is just like crazy super important. Removing that song would be like cutting into the main character of the story.

But Katzenberg wanted to cut it out. Ashman put his foot down and said now, and actually ashman was right. After the immense success of the little mermaid and finding out that Ashman was dying due to complications of aids, Katz basically gave Ashman whatever he wanted for the production of Beauty and the Beast. Katzenberg even moved the entire production to New York so that Ashman didn't have to travel.
Ashman was right about what made the little mermaid so successful and Katzenberg acknowledged that and basically wrote Ashman a blank cheque in creating Beauty and the Beast. So, Katzenberg going completely hands off in the Beauty and the Beast is why it opens with like this five- and half-minute number. It was Ashman flexing as hard as he could because it isn't just the establishing number that you would expect from other shows. It doubles as Belle's I want song as well as introducing us to our primary villain Gaston.

This song serves like two and a half functions, which allows the show to hit the ground running. It is one of the main reasons why Beauty and the Beast is by far the best Disney renaissance film. And its exactly what happens in A Goofy Movie. We are introduced to how the world works. It is all coming from Max's point of view and it doubles as his "I want song".

So to be clear, in this film, in the first five minutes, it opens with a number that serves a stronger narrative function than in any of the other first numbers you hear in the Disney renaissance except for one. We know what's going on at the end of the school year and its almost summer vacation. We know our main character wants motivation, he likes Roxanne but he feels like he's not good enough for her and he needs to prove himself.

The Inside Story of A Goofy Movie

So structurally speaking, this film is already stronger than Frozen! And it only goes up from here. So immediately following the opening we get to stand out. The approach of using a musical to tell the audience the gist of the films was the best move. This is better than just the narrator telling the audience what the show is about in a narrative style.


The music makes the audience feel the main characters' predicaments and what he wants or wishes for. Having max lip-sync to his particular number only does a better job at tying this character to the meaning of the song. Which when you look at it functionally in terms of the narrative, if you treat it as Max singing, this tune serves as a reinforcement or secondary "I want song".

Max just really wants to stand out and have Roxanne notice him. Which is a continuation of what we saw at the opening of the film. But here is the thing. There are no other films that have done this in the Disney catalogue. I don't even think I have ever seen it like a musical.

Max's satisfying what he is singing about in the I want section of the opening number while singing another tune clarifying why he is doing the thing that he is doing right now and reinforcing his wants. Its like functional rebar for how the numbers in the show tell the story and express the chracter's feelings. It's phenomenal.

Brief Background Story of A Goofy Movie

A Goofy Movie is a mid-90s (1995) American animated musical comedy film created by Walt Disney TV animation and Disney MovieToons. The film, directed by Keviin Lima, is based on the The Disney Afternoon TV series Goof Troop, which was created by Robert Taylor and Michael Perza Jr., and acts as a standalone sequel to the show.

Bill Farmer, Jason Marsden, Jim Cummings, Kellie Martin, Pauly Shore, Jenna Von O, and Wallace Shawn lend their voices to the film. The film follows Goofy and his son, Max who is now in high school, there years after the events of Goof Troop, and concentrates upon the father-son connection between the two as Goofy starts on a misguided mission to bond with his son by taking him on a cross-country fishing trip.
While brainstorming concepts for a potential Goof Troop TV special, Disney came up with the idea for a theatrical animated picture starring Goofy. Lima sought to flesh out Goofy's persona and give him an emotional side that would appeal to fans.

Much of the original cast returned, including Farmer, Paulsen, and Cummings, however Dana Hill was replaced as Max's voice by Marsden due to the character's age gap. In addition, R&B singer Tevin Campell provided vocals for Powerline, a fictional celebrity musician who appears extensively in the film, playing the songs "Stand Out" and 121.

A Goofy Movie was released theatrically by Walt Disney Pictures in 1995, and grossed $37.6 million at the box office. Because the picture was greenlit by the recently ousted Jeffrey Katzenberg, Disney judged its release to be purely a contractual duty, resulting in mixed responses from critics. However, following its home media release, the film developed a cult following, particularly among millennials who grew up with it. And it has been a much more visible property within Disney since 2015. An Extremely Goofy Movie, direct-to-video sequel to the film, was released in 2000.

The Storyline of A Goofy Movie

Goofy is a single parent to his 14-year-old son Max Goof, with whom he has a strained connection due to Max's dread of becoming his father. On the last day of school before summer break, Max and his best friend P.J and Robert Zimuruski take over the auditorium in the middle of Principal Mazur's speech, resulting in a small concert in which Max sings as the pop artist Powerline. Max becomes a school celebrity and impresses his love interste, Roxanne but he, P.J., and Bobby are summoned to Mazur's office, Roxanne meets Max outside the workplace and offers to accompany him to a part where Powerline's concert will be showing live on TV.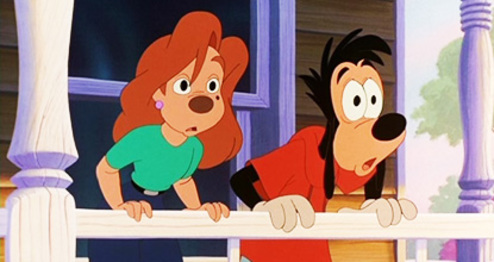 Mazur, on the other hand, phones Goofy and warns him that Max's action may result in his death. Goofy intends to take Max on a fishing vacation from their home state of Ohio to Lake Destiny, Idaho, following a cross-country map route he and his father made years ago in the 1960s, oblivious of Max's plans with Roxanne and worrying for his son's future. Max manages to stop by Roxannes's house before they leave town to cancel their date, but when the sad Roxanne contemplates going with someone else, Max panics and fabricates a tale about his father knowing Powerlline, informaing her he would be on stage at the performance.

Despite the concerns, Goofy prepares his own trip, with disastrous outcome at first. After Goofy mistakenly humiliates Max at an opossum-themed them park, Max becomes enraged and insults his father's feelings. Later, Pete and P.J run into them while camping by a lake. While P.J tells Max that all their friends back home are looking forward to seeing him onstage at the Powerline performance, Pete cautions Goofy to keep Max under control.

Goofy takes his son fishing and demonstrates the perfect Cast technique, this bringing Bigfoot to their camp. Pete and P.J escape, leaving Goofy and Max with Bigfoot for the night. That night, as Goofy sleeps, Max changes the course of the map to Los Angeles, where the performance is being held.

The Climax of the Plot of A Goofy Movie

The next morning, Goofy decides to appoint Max as the trip's navigator. The two go to various places that appeal to them both. They eventually arrive at a motel, where they run into Pete and P.J. again. When Pete overhears the boys conversing, he informs Goofy that Max has duped him into flying to Los Angeles.
The next day, Goofy and Max arrive at a fork in the road, one headed to Idaho and the other to California. Max decides to take the scenic road to California, forcing Goofy to pull over near the Grand Canyon and storm away in rage. The car takes off on its own after the brake is released, and Goofy and Max pursue it until they end up in the Colorado River.

After a furious dispute, Goofy solemnly states that Max will always be his son, no matter how old he gets, and the two reconcile. Goofy agrees to take Max to the Los Angeles performance after learning of Max's pledge to Roxanne. The two are about to tumble to their deaths down a waterfall until Max uses the Perfect Cast technique to save Goofy.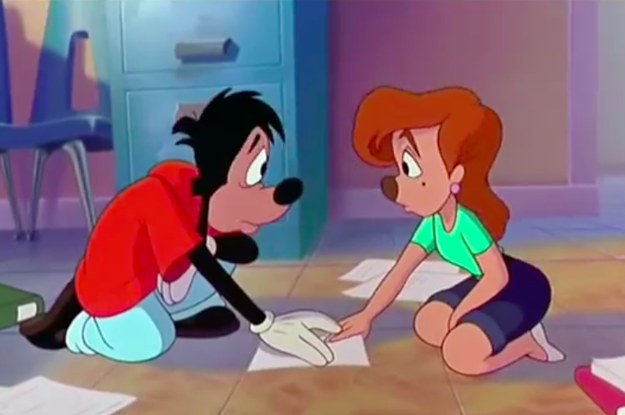 Goofy and Max get it to the concert, and while attempting to sneak backstage, they wind up on stage and dance with Powerline, all while being observed on separate televisions by Pete, P.J., and Roxanne. Later, Goofy and Max drive their wrecked automobile back to Roxanne's house. Max tells Roxanne the truth, which she accepts and reveals she has had a love for him since the first time she heard him pronounce his father's signature laugh; consequently, a relationship develops between them. Because of the damage to Goofy's car, it suddenly explodes, ejecting Goofy, who then falls through the porch roof of Roxanne's house, and Max proceeds to present him to Roxanne.

Final Thought

I have watched many musical films, but A Goofy Movie remains by far one of my most favourite of them all. The fact that it is still in production and the Goofy merchandise is still selling in the shops today, indicate that it was truly a magical film.

It is rare to find a film that is still being watched by people across different generations for that long. How I wish this show had a re-birth or a re-boot of some sort. Because the storyline seems to have a lot to be acted upon. There are many characters whose stories were never told. This is the right time to tell their story.

What nostalgic memories of A Goofy Movie do you still have?