I bet you're a bit like me: you love flexing like Johnny Bravo and showing off your "not so masculine" muscles! That makes the two of us. Anytime I felt good or felt alive with loads of energy, I would flex in front of my friend and pretend I was Johnny Bravo. Sometimes this didn't end well, because it would lead to fight just to establish who is the "real" Johnny Bravo.

In my normal binging on retro stuff on YouTube, I bumped into Johnny Bravo theme song! This instantly got my thoughts running. It took me way back in time to the later '90s! Ohh...those good old days when Cable TV was...well...fun! This theme song got stuck in my head. The nostalgia that was arose by hearing this tune forced me to sit down and write something about this awesome show.


Johnny Bravo remains one of the few animated characters that have stood the test of time. Johnny has wowed all generations of kids. Right from the baby boomers straight to the iGens! This is not easy and is not common for animated TV series.

The timeless nature of Johnny Bravo has allowed him to stay relevant on toy shelves and he is still making a remarkable impact in the lives of kids and teens. Since the late 90s the show has been translated in many languages. This confirms how big the show is and how relevant Johnny still is in the entertainment scene.

To keep this superhero alive, the character has been adopted in very many different mediums, toys, movies, comic books and another form. I have been a fan of Johnny Bravo as long as I can remember. I would be the first one in the theatre if a reboot of this show was done.

The Good Old Days...

This Cartoon Network's series of the later '90s by Van Partible was one of the most popular kids show back in the later '90s to early 2000s. And it has remained among the most-watched shows even after it was discontinued decades ago.


Bravo looked like Elvis Presley. He was a notorious character that couldn't stop getting himself into weird and awkward situations, and hence he serves as an excellent cautionary tale on how guys should not talk to women!

Have you ever wondered what Johnny Bravo's age is?

Despite the fact that Johnny Bravo frequently attempts to impress ladies with novel pick-up lines, he typically appears childlike. He is depicted taking karate classes with the kids, but his mother sends him a Christmas card, and he is treated as an adult although he doesn't have a job.


Johnny's catchphrase "I am Johnny Bravo, and the only-man army!" also indicates that he is a cartoon character who often displays a self-centred personality. The show was the second in the line of the network's series of cartoons, and it concluded after four seasons with a mix of adult humor and contemporary music that persisted throughout the duration of the show.

Let us dig into the detailed background history of Johnny Bravo animated TV series that has graced the Cartoon Network's programming for many years even after it was discontinued.



Background History of the Evolution of Johnny Bravo

Johnny Bravo is a Cartoon Network animated television series developed by Van Partible. It was CN's second Cartoon Cartoon, that first aired in 1997 through to 2004. The series revolved around Johnny Bravo, who is based on Elvis Presley. Johnny wears sunglasses and is a masculine young man who lives with his mother and tries, but usually fails, to attract ladies to date him.
He finds himself in odd circumstances and predicaments, frequently accompanied by renowned guests such as Donny Osmond or Adam West. The show was noted for its mature humor and pop culture references throughout it run.

Partible presented the series to Hanna-Barbera's animation exhibition called What a Cartoon! based on his senior thesis project at Loyola Marymount University. In 1995, a pilot episode aired on Cartoon Network. In 1999, the show was renewed for a second season, during which Partible quit and the show was retooled under the direction of Kirk Tingblad. Partible returned in 2003 when the show was at its 4th season, restoring the show to its previous format and style.

Roughly 67 episodes have aired over the course of the show's four seasons. Hanna-Barbera Cartoons produced the first three seasons, while Cartoon Network Studios produced the fourth. Johnny Bravo received four Annie Award nominations, one YoungStar Award nomination, and two Golden Reel Award nominations. Several animators, including Seth MacFarlane and Butch Hartman, got their start thanks to the show. Comic books, DVDs and VHS have since been released, collector toys and video games are other examples of spin-off media based on the Bravo character.

Johnny Bravo Animated TV Series: The Plot

Johnny Bravo was voiced by Jeff Bennett. He is wearing sunglasses, muscular, egotistical narcissist and dimwitted self-proclaimed womanizer with a pompadour and an Elvis Presley like voice. He resides in Aron City. A name that was derived from Elvis Presley's middle name.


Episodes primarily focus around him attempting to get a woman to go on a date with him, yet his advances are usually denied, resulting in the woman in question injuring him in a comical manner owing to his obnoxious demeanour.

Bunny "Momma" Bravo (voiced by Brenda Vaccaro), his cheerful, compassionate, extroverted, equally dimwitted mother, and little Suzy (voiced by Mae Whitman), is a talkative and intelligent little girl from the neighbourhood who likes to torment Johnny, despite the fact that he rarely remembers her name.


Chryniszzswics Carl (voiced by Tom Kenny) revers Jonny despite being bossed around by him.


Pops (voiced by Larry Drake), is the greedy owner of the local diner who offers Johnny advice as well as cuisine fashioned from unusual ingredients.


Master Hamma (voiced by Tochi Brian) is a Japanese martial arts instructor who teaches Johnny but never considers him a student because he is the dojo's weakest and most pathetic student.

Donny Osmond who plays himself is a cheery and optimistic teen idol who irritates Johnny.


Jungle Boy (voiced by Cody Dorkin) lives in the jungle and is a feral child with superpowers and the ability to communicate with animals.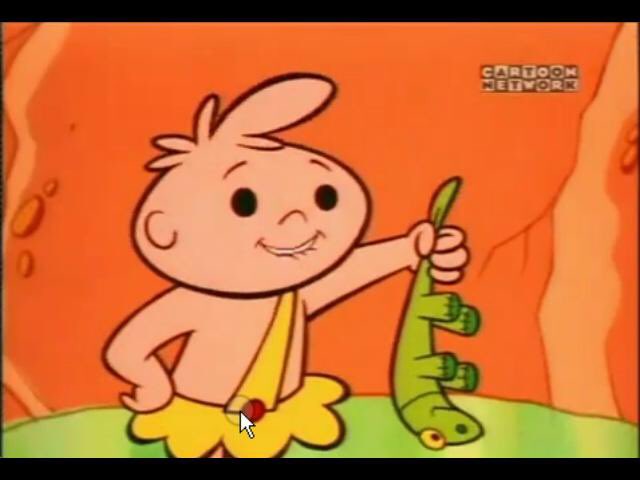 The series' humour is heavily influenced by celebrity guest star appearances and pop culture references. One season 1 episode, for example, is centred on homages to the Twilight Zone, and another episode of the Village people can be seen in the background. Guests on the show so far have included:
Adam West

Shaquille O'Neal

Seth Green

Donny Osmond
In the first season, creator Van Partible planned for the show's middle portion to be a parody of the New Scooby-Doo Movies, with cameos from popular 1970 luminaries, guest actors were employed informally after the season began.

Many Hann-Barbera characters, including Scooby-Doo, Speed Buggy, Jabberjaw, Fred Flintstone, Yogi Bear, The Blue Falcon, Black Widow, and Huckleberry Hound, made cameo appearances in the series.

Johnny Bravo is full of adult humour. In one episode, when Suzy calls Johnny to see if he wants to come over, Johnny casually tells her to call back in 15 years when she is co-ed. In another, when Johnny is hit by a tranquillizer dart and told he only has 30 seconds of consciousness left and to use it wisely, he immediately pulls out a Girlie Magazine. The main focus of the show was on its storyline with several adult-themed episodes.

Production and development of Johnny Bravo

The series is based on Johnny Bravo, who was voiced by Jeff Bennet. He is a strong and muscular hirsute guy with a pompadour who boasts of his ability to bed just about any lady he meets. In the series, he resides in Aron City. Named after Presley's middle name.
Her reason for rejecting his approaches and injuring him on several occasions is due to his boorish manners and ineffectual social skills. Bunny "Momma" Bravo is a chatty concerned, outgoing, equally dimwitted mother to Johnny and his best friend, Little Suzy, a bratty but brilliant kid the next block.

Van Partible's senior thesis project, Mess O' Blues (1993), was an animated short film that presented an Elvis Presley impersonator. An animation professor at Partible introduced a film from the studio Hanna-Barbera to a buddy who worked there, and the studio fell in love with the project. The project was bought by Hanna-Barbera after Partible created a pitch for a seven-minute short out of it.

He decided to change the primary character for the new short from Mess O' Blues, who was now called Johnny Bravo and who was an iconic 1950s looking James Dean type who spoke like Elvis. Michael Jackson's use of whip snaps and cracks was an additional inspiration.


His young Elvis imitation was the primary factor in casting Jeff Bennet in the role of Johnny. They along with a small team of animators, created the short in-house, with digital ink and paint, using a divided production process. The self-titled Johnny Bravo debuted on Cartoon Network's showcase, World Premiere Toons, on March 26, 1995, which was referred to mark the debut of the character in popular culture. "Mr. Monkeyman" and "Johnny Bravo and the Amazon Women" followed "Jungle Boy" in the second series of shorts.

In addition to Greg Brady in The Brady Bunch episode "Adios Johnny Bravo", the character Johnny Bravo was created from the character Giovanni Bravo, which is an Italian name for John or Johnny. He embodies Michael Jackson and Arthur Fonzi (Fonzie) from the '70s show Happy Days. Just like Gaston from the 1991 animated film Beauty and the Beast, Johnny has a distinctly Beast-like demeanour.

Johnny Bravo's Original Series

With the popularity of the shorts, Cartoon Network ordered 13 episodes of Johnny Bravo, making it the first season of the show. On the first season of World Premiere Toons, Seth McFarlane, Butch Harman, Steve Marmel, and John McIntyre were the only writing, animating, and directing members of the group. Joseph Barbera, a veteran animator, was involved in the first season as a creative adviser and mentor.


The series' objective as revealed in a 1997 interview, was to produce an animation that resembled the old Hanna-Barbera cartoons. Hanna-Barbera's first project after Time Warner was purchased by Turner Broadcasting System for CN. The first season of Johnny Bravo finished filming in December 1997 and the pilot aired on July of the same year.

Johnny Bravo's Comeback

Johnny Bravo went on a hiatus after the first season, only to be renewed for the second season two years later. Van Partible was let go by Warner Bros. when it took over Turner Broadcasting, and Kirk Tingblad was put in charge of the show's visual style, tone, humour, and characters.

That resulted in a substantial revamp of the show which was, later on, dropped in the third season in favour of its original format. For the fourth time, the series was put on pause until it was resumed in 2004. The fourth season returned to the lightheartedness of the first season's shorts and first season, with Van Partible directing all of the season's episodes. Despite the reintroduction of the Jungle Boy character from the first season, however, the series never visited him in an episode again.

List of Johnny Bravo Seasons

The show managed to run for four seasons. It had one pilot episode and two special episodes towards the end (2004). The episodes included:
Season 1 – Had 12 episodes and was first aired in March 1995 and last aired on January 1997 on cartoon network.
Season 2 – Comprised of 22 episodes and was first aired in July 1999 and last aired in January 2000 on CN.
Season 3 – Comprised of 17 episodes, first aired in August 2000 and last aired in June 2002 on CN.
Season 4 – Comprised of 13 episodes, first aired on February 2004 and last aired on August 2004.
Johnny Bravo's Reviews and Influence

Johnny Bravo was one of the most famous animated series of the time. It was ranked No 71 on the Top 100 Animated Series. The Kellogg's Chevy No.5 had a custom paint job, including Johnny Bravo on the hood. The race was won by Kyle Busch in the Sharpie 500 NASCAR event, which took place in 2005.

His catchphrases have become very famous in popular culture. Creative team members Seth MacFarlane, creator of the iconic animated comedy Family Guy, and other writers who followed went on to produce several successful television shows throughout the 1990s and 2000s, including Friends,

That '70s Show, and Frasier. In the few months after the series' first season was done, the series' writer and director, Butch Hartman, left to go on Nickelodeon's Oh Yeah! Cartoons, and as a result, The Fairly OddParents became popular.
Since the show premiered in 2001, The Fairly OddParents has been produced and written by Steve Marmel, who's also a writer for Johnny Bravo. Additional to the show Johnny Bravo, the show's director, John McIntyre, has also directed episodes of other Cartoon Network shows, such as Cartoon Cartoons, and currently serves as a supervising director on The Marvelous Misadventures of Flapjack, which is the original series for Cartoon Network.

Final Thoughts

Even though the life of Johnny Bravo's original shows on Cable TV was not that long, he will forever be remembered as being one of the funniest and most influential cartoons at the time. Honestly, I would love to see a reboot or a total revamp of this show.

The stories that can be created around the character are unlimited. He was a likeable character that would easily fit on any storyline and still pack a punch by just how he looks and behaves. I would love to see him being put on the list of superhero characters!

What do you remember about Johnny Bravo?

Would you love a comeback of the show?