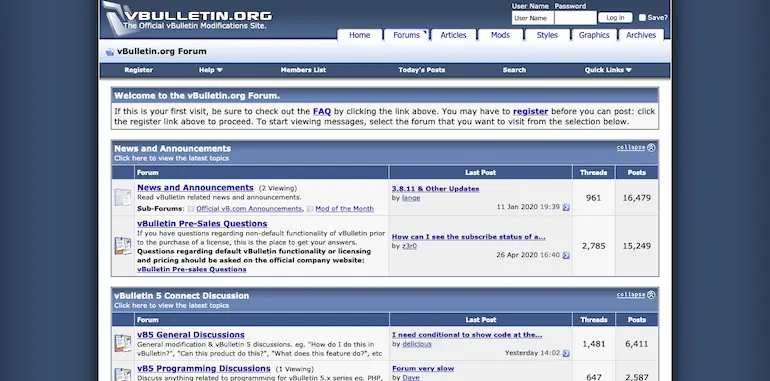 How old were your when you made your first post in a forum or "bulletin board" as we used to call them in the 90s and early 2000s? Well, today we take a look back at the home of community interactions. The boards have been and will forever be in existence for many years to come. Even with the strong appeal of the social medial over the web forums, the technology is still evolving and it is even becoming better by the day with even high-quality niched down discussion compared to social medial.

Today I figured we can take a look at the mother or father of all bulletin boards. The vBulletin, its history and evolution over time. Even as the competition become stiff from the likes of Xenforo and MyBB, vBulletin has remain steadfast and keeps releasing some new upgrades to its system.

I really appreciate that looks and customization that vBulletin have done lover the years, but I would say I was already taken by Xenforo's simplicity, minimal design and free standard features that are ideal for online community interaction.

However, vBulletin was among the first board system that I ever used back in the days for my gaming community. Even with the disruption by Facebook and Twitter that came up in the mid-2000s, vBulletin hasn't relent. It is still staying put and attending to its die-hards.

Background History of vBulletin and Why It was Popular in the Early 2000s

vBulletin is a product of MH Sub I, LLC. It is a proprietary internet forum software package. It was formerly referred to as Jelsoft Enterprises and vBulletin Solutions. It has MySQL database and a PHP script behind it. XenForo, Wordpress, Joomla, Drupal, MyBB, and PhBB are some examples of its close rivals.


In 2000, vBulletin was launched for the first time. At the time, there were few players in the industry save for WordPress which was majorly for blogging rather than community management. In 2001, vBulletin 2 was introduced as its successor. In 2004, a third version (vBulletin 3) was released.

Later on in 2007, internet Brands purchased vBulletin from JelSoft. In late 2009, vBulletin 4 was launched. StyleVars was added to the vBulletin Template code so that CSS variables could be drawn directly from the code. The BBC revealed in July 2010 that the vBulletin software had a severed weakness that allowed anyone to quickly obtain the database username and password.

Internet Brands sued three ex-employees in October 2010 for breach of contract, copyright infringement, and misappropriation of trade secrets. As of may 2011 vBulletin had ceased its efforts to prohibit XenForo from operating and the claims were rejected in 2013.

vBulletin 5 was released in 2012 and was made available to the public. vBulletin 3 was declared redundant in a post by Technical Support Lead Wayne Luke in 2017. The announced that no further support and development will be done on the VB3 from that year onwards. All efforts and developer resources were now dedicated to the vB4 and the latest vB5.

vBulletin and Online Communities


vBulletin has been the staple for online communities for a very long time. It is now over 2 decades since its initial release. Even as it faces stiff competition from other providers, vBulletin remains among the top online community platforms available on the internet today.

Many of the online discussions are sparked by groups and forums. Many of the most popular discussions on the internet in the last 15 years or so have originate from the mammoth Reddit, which has millions of subreddits. There are many other ways that people communicate in online communities. The social media brought a more interactive platform for people but still the web forum remain a thing even in the 21st century.

Why Do Forums and Web Communities Matter?
When it comes to online communities, what does it mean to be a part of one, and why are they so important? To grasp the significance of web-based groupings, one merely has to examine human nature. Our natural tendency is to seek out like-minded individuals who share our values and interests. It wasn't until the 1980s that the concept of a "community" was expanded to include more than just a person's physical location and their religious affiliations. However, the rise of the internet and the development of a variety of tools and websites has also led to the formation of online communities.

It is no longer just friends and family members who can contact with each other in these communities; people from all over the world can do so as well. A large number of internet users belong to a variety of online communities, including LinkedIn groups for professionals and online forums where people may express their views on a wide range of topics.

It's important to note that many brands have worked out how to use online communities to create relationships with customers, provide varied levels of support, and engage with their target audiences. More than 60% of firms reported a boost in income as a result of direct participation with online communities, according to a 2015 survey by Inversoft, a marketing company. More than seventy-seven percent of organizations stated that online communities were critical to their capacity to boost brand exposure, credibility, and awareness.

Definition of a Forum in the digital world

When a group of individuals gather together in a certain location to discuss a common issue or work toward the same goal, they form a virtual or internet-based community known as an online community. Some people use the term "Facebook community" to refer to them, however there are significant differences.
There is no right or wrong way to use a social media platform, although groups tend to focus on a single topic or viewpoint. Additionally, people frequently create online communities on social media platforms. Many social networking sites would have either shut down or remained stagnant if it weren't for the community feature. Social media sites like Facebook and Reddit have thrived because they place an emphasis on fostering online communities among their users.

The online communities are starting to pick up again. The thrill and enthusiasm that people had for the social media seems to be wanning off. This is a good sign because I think niched down discussions have more content and the members seem to be connected and related to each other more than it is seen in the mainstream social medial. This explains why big forums like Reddit have existed for all this years and still remain relevant with high quality discussions.

Although the war between social media and online boards is not yet over. Promoting a board and getting it to pick up is still a big challenger for forum managers. But with the current development there is still hope for the boards. XenForo and vBullletin have done a lot to ensure that the boards are more engaging and come packed with interesting discussion and chat features that members would have initially only found on the mainstream social media.

Types of Online Communities Available

Physical communities provide a lot of inspiration for online ones. Typically, they have their own set of rules, norms, and objectives, and can be open or closed, public or private/secret. In addition, they have personnel who govern the community, including moderators who guarantee that all content is within the group's purview.
Influencers play an important role in determining the course of action for many communities. In order for brands to realize the benefits of an online community, they should first determine what type of community they want to develop. Online communities can be broadly classified as follows:
Support community

Action community

Discussion community
Discussion groups bring people together to discuss a certain topic that they find fascinating and to voice their thoughts and experiences. For example, the once-popular sitcom "Friends" and its stars are the subject of a Facebook group with over 19 million members. Like Geezezeone is a good example of a discussion community where we come together to discuss the nostalgia of the '90s and the 2000s and to share our experience of the good old days.

Why it is important to build a community around you business today

Whether you are service industry or selling a certain physical product, it is very important to build a community around your product. This will ensure that the people who love you product and the customers will have a place to share their feedback and experience with your product. This is most common for services industry.
While a community can help, it can also break. Therefore, it is important to constantly engage your community members and address any concern that they may be having ant any particular moment. The forum platforms are a good place or customer care and being mindful of the consumers of your products.

As previously mentioned, online communities can provide some value to brands. It is possible to improve brand loyalty and client growth by establishing an online community for your brand Consumers have little reason to stick with a single brand when the level of competition is so high across the board. An online community enables a business to provide personalized service and control the dialogue around its products and services. Creating an online community for your business is a great way to increase your bottom line.

However, it extends far beyond a company's bottom line. For a company to remain viable, it is imperative that long-term ties be established. Market-driven brands must develop new strategies to keep their target audience interested and satisfied in an exceedingly competitive climate. Customers' experience and support can be better managed and monitored through online forums.

Other Online Community Platforms
When it comes to building and managing online communities, there are a number of excellent possibilities. Before deciding on a platform, it is a good idea to figure out the purpose of your online community. As you can see from the list below, many of the communities are tailored to a specific use case or sort of special community.


Other popular online include:
MyBB

phBB

XenForo

PeerBoard

Higher Logic

Ning

Tribe

Mighty Networks

PlushForums

Wild Apricot

inSided

Vanilla Forums

Khoros Communities

Jive

Discourse

Hivebrite

Muut

Brilliant Directories

Sociohub
Final Thoughts

Although vBulletin has remained stable over the years and consistent in providing its members with the best online management platform. The above competitors have also evolved to offer some of the best and most promising features. As the competition continue becoming stiffer, consumers are enjoying the best features and customization available.

Geezezone is running on XenForo which has been the main forum platform for many online communities today. It is written in PHP programming language using the Zend Framework. The interesting bit is that XenForo was developed by ex-vBulletin developers Kier Darby and Mike Sullivan.

Personally, I am a devout follower of Xenforo because of its ease to use and some free addons and many developers working on the additional features. This makes one of the best and coming very close to vBulletin in terms of quality and versatility.

After using vB3 for a while, I'm seriously considering trying vB5 just to see how it looks. PHPBB2.2 contains many of the same capabilities as vB3, however you should get vB3 if you need these features right away. Forum software for professional Webmasters has never been better. It supports large boards with features to meet the needs of any community, and the makers allow you to examine the source code to update and develop it yourself.

VB3's positive aspects exceed its negative ones, although the admin interface and organization of options inside it should be improved. It is vB3 that I recommend to all serious Webmasters, though, and I say this as both a site owner and PHP aficionado. You won't be dissatisfied with this purchase.

What is your experience with vBulletin?

Have you designed an online forum using vBulletin?